Your Partner in Success
Your Partner in Success


Investor confidence in North Queensland is High.
Investor confidence in North Queensland is High.




More Resort for your Dollar
More Resort for your Dollar
Buyers Guide
What is Management Rights?
Management Rights is a business investment providing a home and an income. The business owner enters into contractual agreement with the Body Corporate of a community building or complex to provide certain caretaking/management services in return for a salary and to provide on-site letting services for owners wishing to lease their properties.
The Management Rights industry began in the early 1970s when there was a flurry of development activity on the Gold Coast. Developers realised the advantages of on-site management to property investors and they created business management opportunities within the numerous residential and holiday complexes that now identify our skyline.
Over the years the concept has been refined and the successful business model has been adopted throughout Australia and overseas. Legislation has evolved and the industry is effectively governed by the Body Corporate and Community Management Act 1997.
Management Rights is frequently referred to as the ultimate home-based business and being involved in the industry can be a very rewarding experience. Current managers have a wide range of previous experience; some have bought Management Rights for strong financial return on investment, others for a secure lifestyle change. Other than licensing requirements, no specific qualifications are necessary, but good communication and business management skills are essential.
If you are considering this business opportunity we strongly recommend that you seek the advice of agents who specialise in the Management Rights industry. The experienced team at Calvin Bailey Management Rights offer you sound, ethical business advice based on their personal experience in the industry. Our agents, based throughout North Queensland and beyond,  will welcome your enquiry on any aspect of the industry and will direct you to other specialists such as financiers, accountants and lawyers as required.
What am I Buying?
When you buy Management Rights you are agreeing to fulfil the requirements of the Body Corporate agreement. These agreements vary from complex to complex. Sometimes the requirements are contained in one contract, but in other cases the caretaking and letting responsibilities are dealt with separately.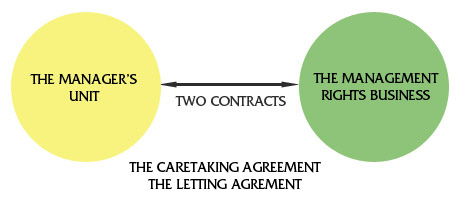 Usually you will also buy:
the Manager's unit
the right to occupy an office or reception area if it is not located within the Manager's unit; and
the plant and equipment required to run the letting office. The equipment required for the caretaking work is usually owned by the Body Corporate
Clients frequently seek advice from their professional advisors when making a business purchase decision. Management Rights is considered a solid business investment because:
There is regular income. You receive regular monthly payments from the Body Corporate for caretaking duties and you are entitled to collect letting commissions and fees from the monthly rental returns of investor owners who choose to have you manage their properties.
Minimal working capital is required. When you purchase an existing business operation you only require enough capital for the first month of operation as you "pay yourself" at month end.
There is no need to hold stock. The Body Corporate pays for the products required for the day-to-day management of the complex and consumables required for investor owners' unit maintenance are charged to the owners as used.
There are lifestyle opportunities.Management Rights complexes are frequently built in excellent locations with excellent resort-style facilities. With good time management and organisation of work commitments, the on-site manager can enjoy everything the complex and surrounding location has to offer.
The Agreements
The Caretaking Agreement will require you (or your staff) to look after the common property of the complex for the Body Corporate by performing such tasks as pool maintenance, general gardening, lawn mowing and cleaning and to liaise with maintenance contractors on behalf of the Body Corporate. Sometimes these tasks are detailed specifically within the Caretaking Agreement. The Body Corporate pays for the day-to-day expenses associated with performing these duties. In return for these services the Manager receives a salary from the Body Corporate, normally paid monthly in arrears. The amount of remuneration varies depending on the size of the Management Rights business, and the salary is usually linked to the Consumer Price Index.
Under the Letting Agreement the Body Corporate appoints the Manager as the exclusive on-site Letting Agent for owners wishing to lease their unit. The owners may still choose to employ the services of an external real estate agent, however this seldom occurs as investor owners appreciate the additional services provided by on-site managers.
As a letting agent the Manager is required to secure good tenants for the owners, to collect and account for rent and to ensure that the property is maintained in good condition. In return for these services the Manager receives commissions and management fees.
Additional income can be earned by providing maintenance and cleaning services for the unit owners and from external service providers such as linen and furniture hire, telephone and internet usage and tour bookings.
Types of Management Rights
HolidayLetting
Complexes located in favourable locations offering short term accommodation ranging from one night to several days or weeks.
Corporate Letting
Corporate complexes are generally located close to the CBD. They operate like holiday complexes but offer business accommodation.
Holiday or Corporate Management Rights offer high returns on investment, generating income from rentals as well as service charges such as linen hire, PABX phone systems, business support and tour bookings. Income will vary throughout the year according to occupancy and room rates, but the business will thrive on repeat business. The tourism component provides an opportunity to grow the value of the business through astute marketing.
Permanent Letting
Long term tenancies, usually six to twelve month leases where the property becomes the tenant's residence. Income is earned by selecting the tenant and letting the unit, collecting rent and providing or arranging maintenance services.
Permanent complexes offer a steady income stream without the variances of tourism fluctuations and the need for comprehensive "front desk" exposure. Good businesses in favourable tenancy locations enjoy almost 100% occupancy.
Student Accommodation
Student accommodation is similar to permanent accommodation except that the units have usually been purpose built to cater for students' needs. Frequently adjacent to Universities the tenancy turn over relates specifically to university semesters.
Mixed Letting
Is a combination of holiday and permanent letting within the same complex.
Choosing the "right" type of Management Rights business is a personal decision, but an agent specialising in Management Rights sales will help you to identify the business components that satisfy your business and lifestyle aspirations.
Buying an Established Business
When you buy an established business what you see is what you get with respect to both the Manager's Unit and the business and you will have the advantage of this means your accountant can easily verify income and expenses by assessing business history and your investor owners will have a realistic understanding of achievable rentals/tarrifs and the associated return on investment based on their tenancy history.
Your solicitor can easily assess any managerial or maintenance issues by appraising the body corporate minutes. Existing buildings will have been through all the "teething" problems that owners talk about and any building defects will have been attended to. However, depending on the age of the complex, the units may be at a stage where they need some form of refurbishment and you will be the one who will need to convince the owners to put their hands in their pockets. Strong communication with your owners and education about the benefits of refurbishment are the keys to getting owners to spend money.
Purchasing an established Management Rights business allows you to assess the past performance of the business and evaluate the opportunities for enhancement.
Buying "Off the Plan"
Buying brand new means buying off the developer's plan usually before the development is finished, sometimes even before building has commenced. Developers are required to fully disclose the terms under which they are selling the units and these terms also include the sale of the Management Rights.
It is wise to know your builder. Inspect other completed developments and talk to the managers of these complexes about their experiences. Frequently larger complexes are developed in stages and it is important to clearly define just what your duties will be during the development period. Your solicitor will review the agreements carefully.
Remember that you will be building a business based on projected income and if there are development delays this could have a major impact on remuneration expectations in the early stages.
Take a look at the marketing material being used to sell the units within the complex. Beware of marketing that overstates expected returns as you will be the one picking up the pieces if projections are inaccurate. Ask the sales team what they are saying to prospective purchasers and ensure that you can live up to expectation.
Buying "off the plan" may not be a suitable option for first time Management Rights owners, but if you decide to purchase new you will have the opportunity to establish your own systems and grow with the business.
Licensing Requirements
As you will be collecting rent for investor owners you are required to obtain a Resident Letting Agents Licence (Queensland) or an On-site Resident Property Managers Licence (NSW) to operate a Management Rights business. This is a special type of Real Estate licence enabling you to collect rent from within a nominated complex and was formerly known as a "restricted" Letting Agents' Licence.
The relevant legislation governing this licence is the Property Agents and Motor Dealers Act. In order to obtain this licence you are required to undertake specific training. Accredited Training Providers provide special courses and you may select in-house training (usually a five day course) or distance or internet learning which you can complete at your own pace.
The relevant Queensland modules are:
CPPDSM401OA Lease Property
CPPDSM4015A Minimise Agency and Consumer Risk
CPPDSM4007A Identify Legal and Ethical Requirements of Property Management
CPPDSM4006A Establish and Manage Agency Trust Accounts
CPPDSM4016A Monitor and Manage Lease/Tenancy Agreements
BSBSMB406A Manage Small Business Finance
The relevant NSW modules are:
CPPDSM3019A Communicate with Clients as Part of an Agency
CPPDSM4080A Work in the Real Estate Industry
CPPDSM4005A Establish and Build Client/Agency Relationships
CPPDSM4006A Establish and Manage Agency Trust Accounts
CPPDSM4007A Identify Legal and Ethical Requirements of Property Management to Complete Agency Work
CPPDSM4010A Lease Property
CPPDSM4015A Minimise Agency and Consumer Risk
CPPDSM4016A Monitor and Manage Lease or Tenancy Agreement
BSBRKG304B Maintain Business Records
BSBLED401A Develop Teams and Individuals
Once you have obtained a statement of attainment confirming the successful completion of your training you may apply to the Industry Licensing Unit of the Office of Fair Trading for a Resident Letting Agents Licence. The Office of Fair Trading will undertake several verifications including a criminal history check during the process which will take approximately four to six weeks to complete.
Upon selecting your Management Rights business you will obtain confirmation of the assignment of the Letting Agreement from the Body Corporate. This document will finalise the licensing requirements.